Simovert Masterdrive Frequency Converters
Siemens Simovert Masterdrive Frequency Converters
Siemens Masterdrive Repair, Servicing and Parts
We are suppliers of Siemens Micromaster – Masterdrive Sales and Repairs.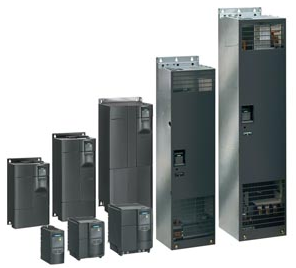 We stock AC drives and vector controllers from Siemen's Masterdrive and Micromaster series, both new and refurbished at heavily discounted prices. We service and repair many drives that are now obsolete.
In addition we also supply many other Siemens Spare Parts.
FYI
Fans & Fuses
The two most common components to fail on a MASTERDRIVE are the cooling fan and fuses. The cooling fans eventually fail due to dust getting into the bearings of the fan. This is an easy repair that you can perform yourself if you keep a spare fan in stock. Fuses will undoubtedly fail from time to time with power fluctuations or surges. Please contact us if you need help with these or any other replacement parts.
Capacitor Charge
All AC drives have large capacitors that are necessary to maintain the internal DC bus voltages. Under normal operating conditions, these capacitors have current continuously flowing through them that keep them charged. AC drives that are in storage or unpowered for periods exceeding 1-2 years begin to see these internal capacitors discharge voltage. When MASTERDRIVES have been unpowered for periods greater than 12 to 24 months, it is highly recommended to pre-charge the capacitors with a gradually-increased DC bus voltage. A drive that has been without power for more than 24 months and has not been precharged has the potential to damage its capacitors when full voltage is applied to the drive.
Drives include
6SE AC Drives

6SE7031, 6SE8615, 6SE6440

6RA and 6RB DC Drives

6RA24, 6RA70

610, 611 and 650 Drives
ECO-Drive
SED 2 / SED2 / SED II Drives
Relcon Drives
Midi Master / Midimaster

6SE95, 6SE32, 6SEQ5, 6SE31

Micro Master / Micromaster

6SE32, 420, 430, 440

Simoreg 6RA24, 6RA22, 6RA21

6RA2218, 6RA2425, 6RA2220, 6RA2175, 6RA2233, 6RA2277, 6RA2474, 6RA2475, 6RA2477

Simovert 6SE70

6SE7033, 6SE7021, 6SE7027, 6SE7031, 6SE7032

Simodrive

6SN1145, 6SN1145, 6SN1123

And More! Call or contact us for quotes and options.